Stress Management Training at it's Best
Stress Management
Who is the Training For?
This programme is for people who are suffering from stress issues where their work is beginning to/ is likely to suffer.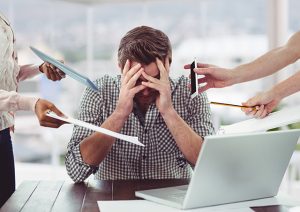 What does the Training do?
Stress Management Training allows individuals to improve the way they work when under constant stress.
Pre Training Review
Frosch Learning would carry out sessions with elected sponsors to understand exactly where training is required. Each person will also complete Personal Questionnaires prior to training.
Content of Training
Understanding the situations that produce the most stress
Vulnerability Checklist
Environmental Checklist
Stressor Checklist
Life/work/ event stress ratings
Visualising Success
Thinking as a winner, not a loser
Left brain/ right brain thinking
Personal Driver Questionnaire
Rational Behaviour Technique
Assertiveness Skills
Conflict Resolution
Action Plan to Reduce Stress
Post Training review
Each participant will come away with an action plan for him/herself. Frosch Learning will then return to your workplace to conduct an in-depth, post implementation review meeting eight to twelve weeks after the programme to ensure positive change is being implemented.
Outcome
By the end of the programme, each participant will:
Have improved personal performance through better management of stressful situations
Have improved ability at spotting potential stress areas and managing them before they become critical
If you would like more detailed information about Frosch Learning's products and services, please fill out the contact form below so that one of our consultants specialising in your sector can handle your enquiry.