Sales & Customer Service
Businesses are often concerned that their Customer Service Teams will appear as ill-reputed 'Sellers' if presented with any sort of Sales Training, so may, justifiably, refrain from putting the two terms 'sales' and 'customer service' together.
But why shouldn't your Customer Service Team be taught how to sell your products whilst delivering outstanding customer service? Frosch Learning has developed specific training and coaching for this very thing.
Whether you're a retailer, an inbound call centre or in the service industry, and you're looking to increase results, we provide tailor-made training specifically designed to maximise revenue within your customer service teams.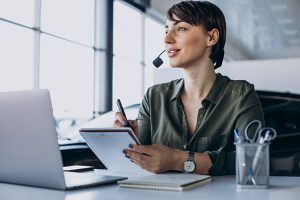 Who is the Training For?
Whether it's face-to-face customer service, or customer service on the telephone, Frosch Learning's training will benefit all who are required to sell to customers and prospects.
Pre Training Review
Frosch Learning would carry out sessions with elected sponsors to understand exactly where training is required.
Content of Training
We have developed practical techniques to enhance learning for our delegates, including recorded simulations for situations that are typical to your business, followed by a detail review and coaching session.
All customer service training will be specifically adapted to each business and individual, and will by no means be tied to this structure. Typical areas that are often covered are:
Customer Service in Action
Our own positive and negative experiences as a Customer
Discussing areas where company process/systems can create problems for the Customer
Developing practical ideas that will stop/minimise these problems occurring in the future
Receiving The Inbound Telephone Call or Face to Face Consumer Visits
The main types of call/visit handled
The importance of creating the best first impression and how to do so
Questioning and listening skills to help clarify the issues
How to respond and present solutions positively
What to do when checking information and the Customer is waiting
How best to explain "news" that you feel will not be received well
How to leave the Customer with a positive feeling
Handling Customers when you don't know the answer
How to introduce a colleague to a Customer professionally
How to handle objections:

Developing best answers to the objections most frequently received
How to handle difficult Customers
Motivating action from other colleagues
Making Successful Outgoing Telephone Calls or Visits
The differences in structure to the incoming call/visit
How to organise yourself
Creating positive first impressions
Keeping your message clear and short
Keeping the initiative for your next contact
Individual Action Plans
Individual Action Plans will be built by each person to help make changes where required
A Team/Department Action Plan will be built where required
Post Training review
Following the training programme, Frosch Learning will return to ensure positive change. This will include a detailed review and coaching session.
Outcome
By the end of the programme, each participant will:
Have gained a full understanding of all customer experiences and be able to use this knowledge to best effect
Have improved ability in questioning, listening and presenting solutions positively
Have developed their ability to handle difficult situations when handling customers
Have gained a deep understanding on how to handle objections effectively
Have significantly improved their effectiveness in making outgoing calls to improve results
If you would like more detailed information about Frosch Learning's products and services, please fill out the contact form below so that one of our consultants specialising in your sector can handle your enquiry.